Annapurna: Trekking to Base Camp in the Sanctuary
Hundreds of summits, thousands of trails... and which one to pick? A relatively gentle trek with easy logistics takes you from the tranquil lake of Pokhara through the terraced middle hills to the base camp of Annapurna.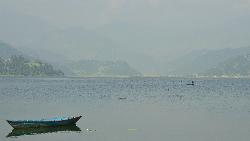 There are several variations of routes: I drive from Pokhara to Nayapul, a bustling little town where many routes start or end. Right after the village rural Nepal begins; a bridge takes me over the Modi Khola and up the hillsides with rice and millet terraces.

It's a constant climb up in the hot sun, butterflies and flowers increase the tropical atmosphere and when the steep walls of the Annapurna range appear high above, they seem like from another world. Traditional Gurung houses are spread over the hillsides, one large settlement is Gandruk with nice lodges and great views.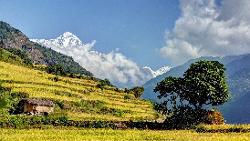 From the lodge I watch the sun hitting the eastern flank of Annapurna South, and then slowly climbing up to illuminate the yellow rice fields around the village. A walk through dense grense forest takes me to the top of ridges with views of the huge peaks rising above the rice terraces below.

After Choomrong the trail enters the valley of the Modi Khola; steep walls on both sides and jungle prevent views until the forest stops at 3'800 m. Dark clouds hide the mountains, and soon heavy rain turns into snow.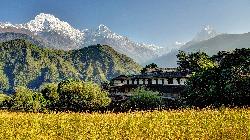 Getting from Machapuchare Base Camp to Annapurna Base Camp is actually an easy walk, but cold winds make snow seem to fall horizontally. I'm relieved to arrive the lodges, and find plenty of free rooms which can be difficult in the busy high season of October. In the late afternoon, the clouds slowly disperse and reveal the freshly snowed in flanks of Machapuchare, the famous Fishtail mountain.
The night is freezing cold, but the stars make it worth leaving the cozy sleeping bag to gaze at the Milky Way above Annapurna I. The morning is perfectly clear; the sheer wall of Annapurna glows purple in the pre-dawn light until the summit ridge starts to shine in the sun. Soon the entire walls stands out against the darkness around it, first in orange, then yellow and finally pure white.
What makes the sanctuary so special becomes evident when turning around: on all sides we're closed in by peaks above 7'000m - the steep wall, the Fang, Gangpurna, Annapurna III, Machapuchare, Hiunchuli, Annapurna South... The sadness of leaving this grand place is soon forgotten. After crossing the enchanted forest of the Modi Khola for a day, the exposed ridges of Chomrong and Kimrong reveal the majestic peaks before they get closed in by clouds in the evening.
Despite the crowds this is still a great 7-10 day trek with scenic diversity and great sights.