Namtso - Heavenly Lake in Central Tibet
Mountains and Lakes on the High Plateau
Tibet is a country of stunning landscapes, but the situation of its people can make it hard to travel there.
I am aware that Tibet is not - and never was - the place of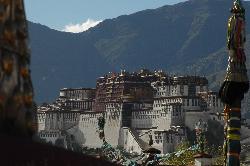 eternal happiness. Occupied by China for 50 years who suppressed all personal and political freedom since then, and the economic pressure of recent years have had a large and negative impact. Before the occupation, life was harsh but people were in control of their own destination. When talking to old people, they often refer to those times as difficult and harsh - and wish those times were back. "We worked hard, suffered from hail and snowstorms, but at the end of the day celebrated our religious festivals and enjoyed the product of our own labour."
Back to Tibet in 2005: we fly from Kathmandu to Lhasa and pass the stunning Himalayan range between Everest and Kangchenjunga, literally flying between two of the highest peaks on earth. When the meandering, endless-armed Brahmaputra appears between the barren hills, the plane descends and lands near Lhasa.
The Holy City still attracts pilgrims from all over Tibet who circumambulate the Jokhang temple and visit the large monasteries in the vicinity. After long drives through the stunning countryside we reach Samye and Tsurphu, two old and important monasteries.
After acclimatizing, we are ready for our trek to Namtso, the "Heavenly Lake". We find yak-drivers who are eager to go with us. Sadly, the weather gets worse, the yaks throw off loads (nobody treks anymore since the road was finished), and we catch a cold. In the end, we drive to the lake and spend three days on its pleasant shore.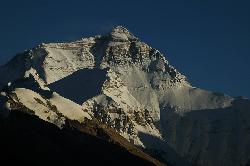 With a jeep, we drive back overland to Nepal, and have enough time to enjoy the vast Tibetan landscape. A detour takes us to Rongbuk where we sleep in the monastery and enjoy a stunning sunset and sunrise on Mount Everest.
The road drops into a steep gorge and after a short-time we have left the high-altitude desert behind us and are driving through lush rice terraces in Nepal. Fighting between Maoist and army has increased, but despite this Nepal feels a happier place than Tibet. Tibet was great, but we're both happy to be back in Nepal.