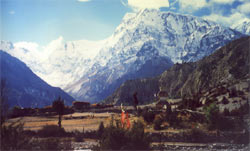 The small village of Chulu has kept its charm since it lies hidden in a less-frequented sidevalley. Annapurna and Gangapurna rise behind the organ-pipes and the houses.


Mountains from Pisang Peak to Annapurna I
(click here for 3D-Panorama-Viewer)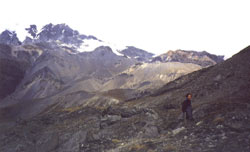 The way from the Marsyangdi valley to the basecamp requires a steep walk through barren yet colorful gravel slopes.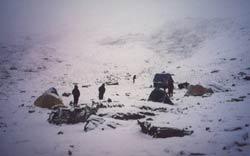 Suddenly bad weather moves in and forces us to spend two nights at -20°C. Luckily we can move on after a day and set up high camp on the col at 5'500 meters.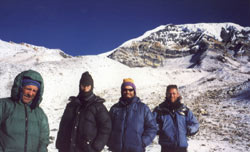 Tom, John, Dana and Jamie in front of Chulu Far East which is climbed on the left ridge.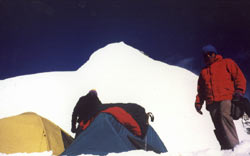 When looking at the summit from high camp at 5'600 meters, the 500 meters to the peak are much steeper than it looked from further down.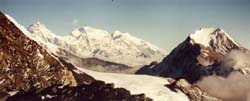 After climbing a nasty scree slope we break camp on the saddle between the ridges of Chulu East and Chulu Far East. Manaslu (left) rises high above all the other mountains.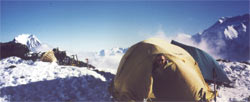 Does Jamie seem to be enjoying this?


View from the Col Camp towards the Annapurna range. Annapurna I (8'091 meters) is at the very right.


The valley is already in the shade, but the sun is still setting on the Manaslu massiv. It is a cold night with strong wind, but inside the tent we enjoy the comfortable atmosphere.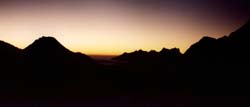 The silhouettes of the mountains stand out against the thin orange line at the horizon where the sun will rise any moment.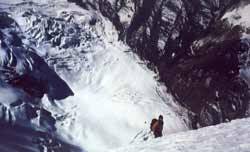 Far down the glacier winds its way through the steep valley.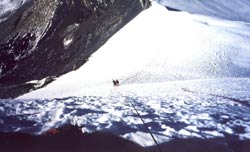 The first steep section which is somewhat less scary when using a rope.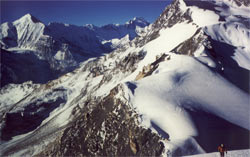 Why do people climb mountains? This picture should answer all questions. View on the Annapurna range from Gangapurna to Annapurna I (8'091 m) from a flat spot after our first rope section. Our tents are the two small dots near the ridge that we climbed up through the black slope on the left.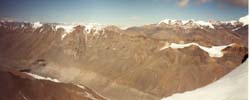 While waiting to climb the summit ridge, we enjoy the views towards Tibet. The Nar valley just below us is rarely visited by tourists. A destination for the next trek?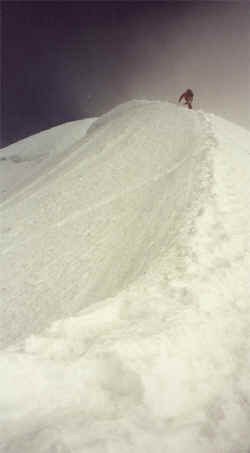 Jamie 'went ahead' to fix rope for the last ridge before the summit. Maybe I am exaggerating, but certain death lingers on both sides of the narrow ridge. Tom climbs first, 20 minutes later we all meet on the summit.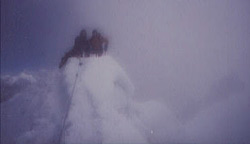 The summit at 6'060 m! And if you don't believe that's me on the left, I will show you the scars on my hands :)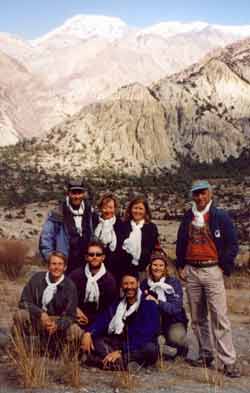 The tourists in front of Chulu Far East:
Happy about the fantastic trek.
Looking forward to a hot bathtub and apple pie.
Destined to come back.