Our Route
Labour laws in Switzerland are great: One day my boss told me that I have to take a paid 3-months vacation, otherwise he'd get into trouble because of my overtime.
So, Sonam and I decided to spend the autumn of 2005 in the Himalayas. With only a loose itinerary we flew to Kathmandu, made it our home base, and visited different areas during the following weeks; first to Tibet, then Sikkim and then back to Nepal itself. We had a great time, faced no problems and came back very relaxed.
Here's a brief summary of what and how we did. There's lots of pictures, links are further down:
| | |
| --- | --- |
| Foot | 23 days |
| Kayak | 4 days |
| Elephant | 3 days |
| Jeep | 27 days |
| Bus | 3 days |
| Domestic flights | 3 |
| # days sick | 2 x 1.0 days (nothing serious, just a cold) |
| $ bribes paid | zero (and it wasn't for lack of Nepali officials trying) |
Tibet (Sep 27 - Oct 12 2005)
During the flight from Kathmandu to the "Roof of the World", we pass Mount Everest and 4 other 8'000 meter peaks and arrive in Lhasa. Military presence, ignorant and obnoxious tourists (mainly from China, but from other countries, too) make it difficult to enjoy the Holy City these days.
We feel better in the company of nomads in the country-side where we want to trek Namtso, the "Heavenly Lake". Bad weather and unwilling yaks force us to change our plans, but we do make it and stay at the great lake's shore for some days.
With a jeep, we drive back overland to Nepal, and have enough time to enjoy the vast Tibetan landscape. A detour takes us to Rongbuk where we sleep in the monastery and enjoy a stunning sunset and sunrise on Mount Everest.
The road drops into a steep gorge and after a short-time we have left the high-altitude desert behind us and are driving through lush rice terraces in Nepal. Though the country is at the brink of crisis (or beyond), we feel more at ease than in Tibet. For details, see Pictures Namtso
Sikkim (Oct 22 - Dec 10 2005)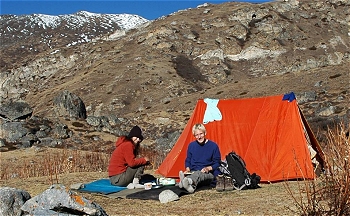 There's probably few places on earth that have the diversity of Sikkim: the small Indian state rises from the hot and dusty Bengali plains barely above sea level to the summits of eternal snow. The changes in culture, landscape, vegetation and wild-life are immense.
While Sonam stays with her family in Gangtok, I set out to discover the "Valley of Rice", by walking. In West Sikkim I sweat during hot and steep climbs through dense forests, am freezing during ascents to viewpoints for stunning sunrises, and try to get enough air on the way to high passes. I walk along green glacial lakes below hanging glaciers, hear avalanches thunder down the steep ice-clad flanks, and climb up on ridges of moraines. Then I stand at the top of the Goecha La pass and enjoy stunning views at the foot of the 3rd highest mountain on earth, Kangchenjunga.
Sonam and I then trek together in the remote and unknown areas of North Sikkim. The ever-green jungle gives way to colourful autumn foliage, above which the white peaks rise into the blue sky. Fine fluted summits and groaning glaciers reflect in the surface of high-altitude lakes. Eagles drift in the sky, blue-sheep grace near our camps. We climb higher for even better views. Literally the high point is crossing (probably as the first tourists) a 5'000 meter pass in snow and fog. After the cold nights in the tent (-15 Celcius) we are looking forward to warmer temperatures...
For details, see either Pictures West Sikkim or Pictures North Sikkim
Nepal (Dec 20 - Jan 3 2006)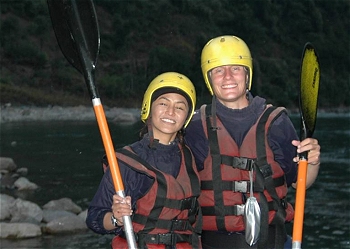 Nepal has more to offer than high mountains, so we spend some weeks in its southern part where it's still warm in December.
We fly to Pokhara, and from the lake enjoy views of high mountains. We stay with water. At a brave moment we sign up for a kayak whitewater course, not really knowing what we get ourselves into. We pack our sleeping bags into the kayaks, put on a helmet and life-jacket and find ourselves on a Himalayan river for the next few days.
We have two great guides, the water is warm and the rapids "only" grade 2 and 3. But it does take courage, especially when the kayak flips and suddenly you find yourself upside down under water, feel the current and try to wriggle yourself out of the narrow boat. We spend Christmas in a local house, sleep on a wooden plank and share the room with goats and chicken. We count this as one of the highlites of our trip. And Sonam is the first local woman ever to kayak Nepal's whitewater.
On a local bus we drive further south to the Chitwan National Park. Switching mode of transport, we're on elephant's back for the next days and roam the jungle looking for monkeys, rhinos, and tigers. Tigers remain elusive, large footprints are all we get to see. Maybe that's good, because one of the tiger's has just eaten an elephant driver's wife.
We're not disappointed, all the other wildlife and the luxuries of a 5-star lodge make this a fitting end of a long and trouble-free journey. For more details, see Pictures Kayak and Chitwan
More details and pictures can be found here:
Tibet
Sikkim
Nepal