Zanskar Padum to Darcha: Introduction
Some of the most outstanding high altitude scenery and thriving Buddhist culture can be found in India's northwestern corner. Roads were built just a few decades ago mainly for military purposes, tourism became possible only after they were opened in the 1970s.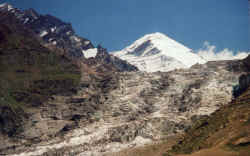 Surrounded on all sides by steep mountains and high passes, the valleys of Zanskar are only accessible in summer even in the present time. Zanskar is a small rugged piece of land that was partly independant in its earlier history, but most of the time subject of rulers in Ladakh. Except for a few Muslim families in Padum the people practise Buddhism and lead a simple and sometimes hard life as farmers and herders.
There are several exciting trekking routes, we walked on (relatively) trodden paths and hiked from Padum over the pass Shingo La to Darcha. There we took a bus and rode back to Manali over the Rohtang La pass that acts as a major watershed.