Olungchungkola: Introduction
"The Himalayas must be approached humbly. Respect their beauty, their majesty, and their power, and they will treat you as you deserve." What Frank Smythe said in 1932 is still true today, especially when exploring little visited areas where in addition to a stunning landscape you meet a people and their threatened culture.
In northeastern Nepal lies Kangchenjunga, the third-highest peak on earth. In 2002 the Nepali government opened up new areas for trekking. Two villages lie in the remote valleys: dense jungle separates them from the fertile lowlands of Nepal, snow-covered passes form the border to Tibet. It is a region with plenty of opportunity for exploration, and in fall of 2003 I spent one month in the area.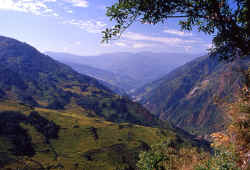 The trek starts in the low land where dense forests, bamboo, fern and cardomom grow. Rice terraces cover the hillsides, millet is planted on the fields around the pretty whitewashed houses.

After some days the scenery changes and the valley gets narrow. The jungle seems impenetratable at times. The snowpeaks are getting closer and finally the valley opens up at the village of Olungchungkola (also called Walung).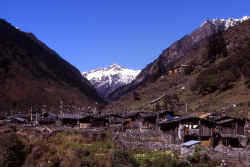 A large monastery overlooks the prosperous town, it is the oldest gompa in Nepal. In previous times, this was a major trade route to Tibet, till today people live from trade, animal husbandry and a little agriculture.

We're the first foreigners to visit the trading pass since the explorer J. Hooker in 1840. Tiptala pass is not very high, but deep snow makes it a tough hike.
There is more to explore: the village of Yangma lies at the end of a different valley. Stunning valleys and peaks surround the secluded settlement.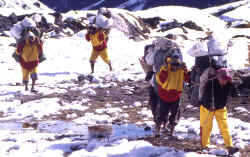 Then we cross into different valleys which are part of the regular Kangchenjunga trek. The trails runs above huge moraines which come from Jannu and Kangchenjunga itself.
From the southside of the third-highest peak, I start the pleasant return journey to the airport in Suketar. We pass countless pretty villages where people are busy harvesting the rice and millet.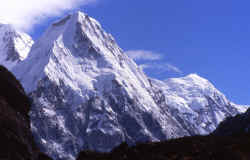 While waiting for the return flight from Suktar to Kathmandu, and after one month without any news, I am quickly reminded of reality: Maoists attacked the airport and the telephone tower, and the army shot an innocent villager in his house. Army calls and gunshot practise keep me awake at night.
Somehow this seems a sad and unsuitable end of a most exciting and stunning 30 day trek, but it describes the mess the country is in. The Nepali people deserved much better, hopefully their leaders will realize that before it is too late.